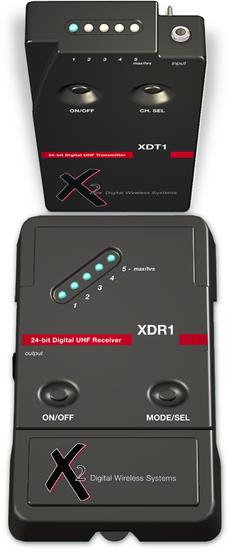 Quick features:

• 24-bit linear AD/DA converters capture your exact performance

• No compander ICs that inevitably squash your sound

• Frequency-Clear™ 900 MHz UHF transmission means no DTV or licensing concerns

• Compact "stomp-box" receiver fits in your guitar case

• Receiver operates on a 9V battery or optional AC adapter means no 220V concerns

• Designed, engineered and manufactured in the USA

The XD Series Digital UHF Wireless System is the wireless solution you've been waiting for. Designed specifically for instrument applications, this 24-bit digital system delivers your tone and performance with the sound and feel of a direct wire connection - all at a price that won't break the bank.

X2's proprietary digital technology provides superior fidelity while the "stomp-box" style receiver's internal micro-processor selects the data stream from among the internally mounted Q-diversity™ antennas to eliminate dropouts, interference including DTV, compander ICs and the associated 'pumping' and 'breathing' that squashes your tone, and other problems associated with analog wireless technology.

All of this sound and performance is provided to you with an incredible feature set including: 24-bit digital converters yielding 117 dB dynamic range to capture your most expressive performances, five user-selectable operating frequencies, auto DigiScan™ to confidently select an open channel,(i.e. when several in the band are also using this system) frequency response all the way down to 20 Hz for truly thundering lows, stereo 1/4" output for instrument and full-bandwidth or 'tuner out' applications, and a five segment LED display (battery status, link status, audio level and channel).